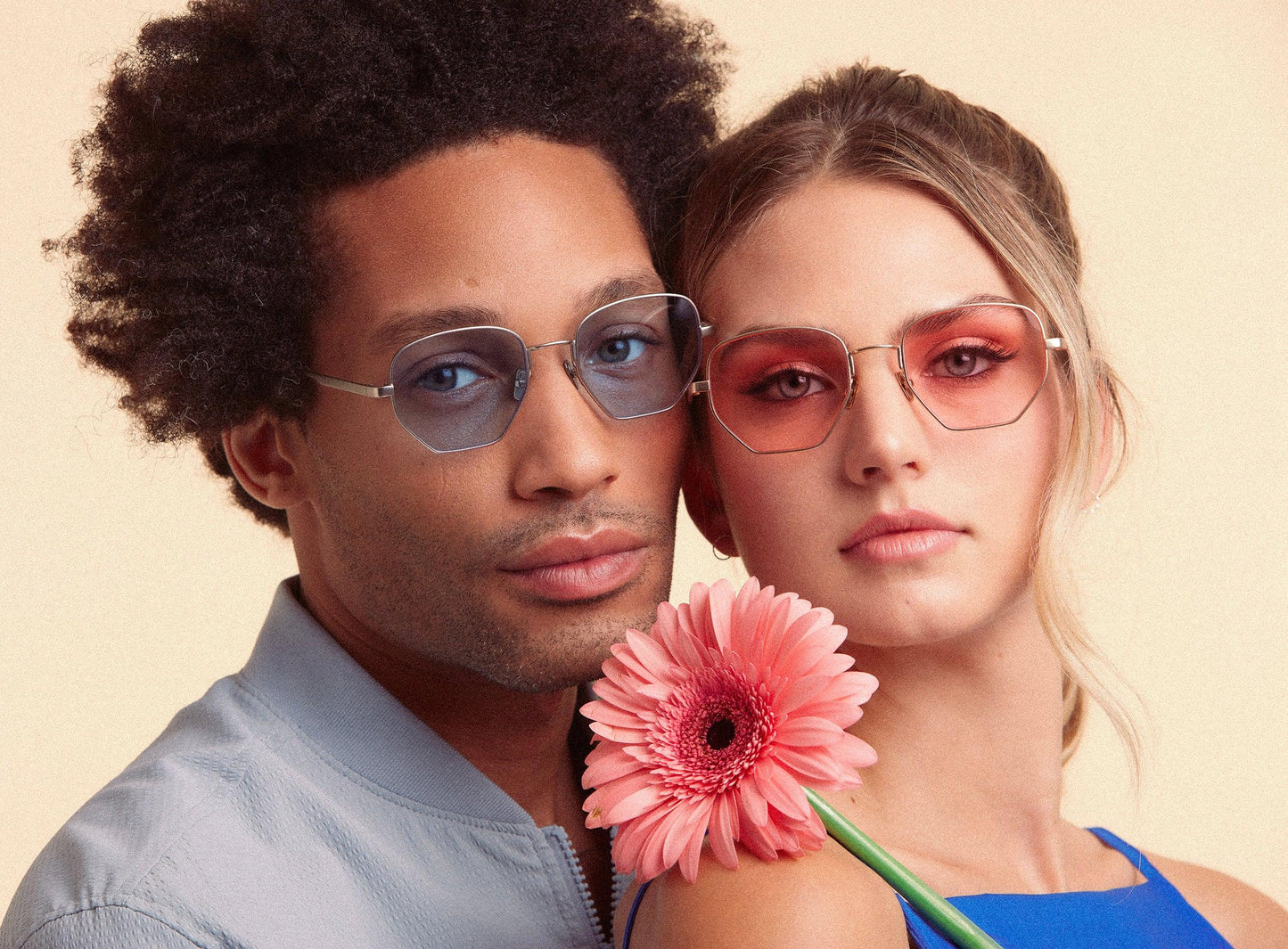 Which Types of Glasses Are Best for You? Everything You Need to Know About Lenses, Frames & Shapes
Finding the perfect pair of glasses that not only enhance your vision, but also suit your face is a challenging task. Part of the headache of looking for eyeglasses is not knowing what is best for your vision and also looks good on you.
With so many different frames, lenses, and treatments available, it can be overwhelming to pick a new pair of glasses and you are often left confused. This guide will help you understand the various styles of eyeglasses and what type of glasses will best suit your needs, preferences, and lifestyle .
Different Types of Glasses Lens & How to Use Them
1. Prescription Glasses

Single Vision is the most common type of glasses and is needed if you require correction for one field of vision, either distance or reading. These types of eyeglasses have one optical prescription correction with focus evenly over the entire surface area of the lens. Vint & York single vision lenses are offered in Polycarbonate material as a standard option. They are strong and impact-resistant, making them safe to wear for everyday activities.

Progressive glasses or PALs are a type of glasses used to correct distance, intermediate (computer usage), and near (reading usage) at the same time. They use multifocal lenses to help correct three fields of vision with no prominent line separating. They correct distance, intermediate as well as reading vision in one lens.
Progressives make the transition between prescriptions much smoother, eliminating that obvious line between the sides of the lens with different prescriptions. This technology helps you see better in more instances. At Vint & York all of our progressive lenses are custom-tailored based on your specifications including measurements, frame shape and size, prescription, and other details.
This type of eyeglasses corrects nearsightedness and farsightedness in one pair of glasses. The top of the lens contains a prescription for farsightedness and your eye will naturally look through the top of the lens when you are driving, walking, or conversing with others. The bottom of the lens contains a prescription for nearsightedness and is made for reading, working on a computer, or doing closer tasks.
Bifocals are indicated if you have multiple vision problems such as presbyopia, an age-related change that affects your eye's lens, myopia, farsightedness, or astigmatism.
2. Blue Light glasses
If you're spending a lot of time working on a computer then you most probably need these types of glasses lenses – blue light blocking glasses. Every minute spent in front of a device without eye strain protection impacts the long-term health of your eyes and a pair of blue light glasses is the best way to combat the time spent in front of any screen.
Blue light glasses not only help with eye strain but also with your sleep. Too much blue light can make your brain excessively alert, leading to trouble falling asleep and daytime tiredness. With blue light glasses, you can use luminous screens without having to worry about messing up your body's internal clock, and be sure to get a good night's rest.

3. Readers
Reading glasses improve your ability to read something up close, such as a book or a computer screen. They have single focus lenses, correcting only close-up vision, and are made by adapting the monofocal lenses to your reading distance, which is usually between 30 and 40 cm.
4. Tinted glasses
Glasses are arguably one of the most functional accessories you own, so they need to be simultaneously stylish, comfortable, and beneficial to your eyes. So when you're thinking about types of glasses where fashion meets function, there is no better option than tinted glasses .
Tinted glasses are a well-established fashion trend. Not only regarded as a stylish addition to your summer outfits but also ready to protect your eyes against UV radiation and grant a high-contrast vision experience.
Depending on the color you will pick, they can encourage focus when working on your computer, help with migraines and light sensitivity, or energize how you feel. Moreover, specific tints can be very helpful if you suffer from photophobia or light sensitivity.
Types of Glasses Frames
1. Full-Rimmed Frame
If you're looking for a bold style that highlights your eyes, full-rimmed eyeglass frames may be your best option. Full-rim eyeglasses come with lenses fully outlined with a metal or plastic frame and they are usually the ideal choice if you have a more active lifestyle involving traveling and sports activities.
The only downside with full rim eyeglasses is that they tend to be a little heavier than the half rim and rimless eyeglasses, but it should not be a big deal if you don't mind the extra weight.
2. Semi-Rimless Frames (Clubmaster Browline)
Browline glasses or semi-rimless frames come with lenses covered only by top rims. They are the go-to accessory for a geek hipster look but they are also suitable as business eyeglasses. They mimic how eyebrows frame the face with a heavier top piece and offer a hip vibe to almost any personal style.
Inspired by the iconic looks of the 1950s and '60s these hybrid frames bring together the minimalism of rimless frames with full-rim durability. Browline glasses are the go-to choice if you want a lightweight yet trendy pair of eyewear that's comfortable for wearing over long periods.
3. Rimless Frame
Lightweight and modern, rimless glasses have no frame around the lens and offer plenty of style without having to stand out too much. These frames are made of just the temples and nose bridge and are the best choices if you favor a minimal look and feel. Providing the largest field of vision and also being the most lightweight, make the rimless frame a great option for everyday wear.
Different Types of Glasses by Style
1. Aviator Frames
The aviator-style glasses were made during World War I to protect the pilot's eyes from the glare of the sun and soon became one of the most popular types of glasses. Also known as the pilot frame, aviators may easily win the title for the most iconic eyewear style ever made.
The modern-day aviator eyeglasses are not the same as the ones our parents used to wear – they feature unique contemporary details, colors, and shapes that keep them in the style conversation. What adds to their unparalleled class, is the top bar over the bridge that is rarely found in other different types of glasses frames.
2. Cat-Eye Frames
Cat-eye glasses are and will always be a symbol of femininity and if you're looking to make a statement then these are the glasses types you are looking for. They're synonymous not only with retro-cool fashions but also with modern-day eyewear intrigue. Even though they radiate retro, cat-eye glasses frames are still totally in-vogue, offering a pop of quirk for all who wear them.
This remarkably iconic, instantly recognizable silhouette is marked by its upsweep at the edges of the frame, creating a dramatically defined brow line.
3. Oversized Frames
Oversized glasses are large framed specs, often seen as a fashion statement. And they make a big statement without you needing to say a single word. Oversized sunglasses speak for you. They share your mood with the world while hinting at the nonchalant attitude of movie stars. Big eyeglasses frames enhance your style, so prepare yourself to have all the eyes in the room on you!
Larger than normal glasses frames, oversized glasses are available in different sizes and frame thicknesses, so you don't have to worry that will overwhelm your face.
4. D-Frame
D frame glasses are usually as tall as they are wide and they showcase a browline with retro-inspired wingtips that taper out slightly. The base of the lenses subtly tapers inwards and is narrower than the width of the browline.
The D-frame glasses are a cool blend of vintage styling from the 1950s to the 1980s and modern details. Featuring unique designs, usually in square silhouettes that you don't see every day, they are a great fit for creative people.
5. Round Frames
Round glasses are a must-have accessory and a cool piece that any stylish man or woman can use to bring extra points to their outfit. Round glasses frames are timeless which makes them a popular and great choice no matter if you're looking for glasses that make you look younger or a pair of cool specs for the office. Beautiful and simple, round shades are one of the most popular types of glasses style and look good on every face shape.
Rounder frames are also a good pick if you have a strong prescription because many round frames have a smaller lens width meaning a thinner lens.
6. Square Frames
Types of eyeglasses frames that are square tend to be considered a little boring, but they are far from that. Square eyeglasses come in timeless shapes and colors that we easily associate with the classic look that never goes out of style.
Square or rectangular eyeglasses are a great fit for a classic yet hip look that flatters most faces and stays in fashion season after season.
7. Geometric Frames
A perfect mix of angularity and modernity while still keeping your look classic, the stylish geometric frame will make you want to stand out. With shapes like an octagon, they will give you chiseled looks and flaunt your soft edges with their hard ones if you have a round or oval face shape. Bold, geometric, and unique, these types of frames whisper sophistication and stylishness.
Find Your Ideal Type of Glasses at Vint & York
We at Vint & York created a beautiful range of eyeglasses, lenses, and frames that accommodate all your needs and style preferences. No matter if you need progressives, blue light blocking glasses, the perfect pair for your reading nights, rimless, browline, aviator, or oversized glasses we got you covered.
At Vint & York, the perfect fit is just a virtual try-on away. You can check out how you look with our Virtual try-on app , no matter what kind of glasses you need we'll help you make your decision.
Discover our optical collection and complete with prescription or non-prescription glasses that fit your lifestyle and needs.